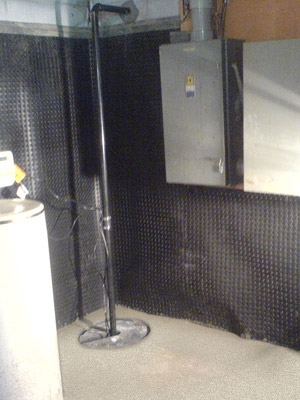 Inside Drainage System
This method of waterproofing is used for both block and poured concrete foundations. A non-digging technique that involves the installation of drain pipes under the floor. The leaking water is directed into these drain pipes. Delta membranes are fitted against the wall for added protection.
Internal drainage systems are best-used when you cannot gain access to the exterior of your home's foundation or want a less-intrusive option compared to excavation. Water is redirected from your home's basement walls into drainage pipes located inside your home, and is removed without causing damage to the integrity of your home. Internal drainage systems are also great for home renovations which will feature open-home work (i.e. the removal of a wall or sections of the home which will open it to the elements). We generally suggest them as a stop-gap measure for temporary water removal needs. If you want to protect your home fully, a more long-term option such as excavation or polyurethane injection may be necessary.
Internal Drainage Systems Are Best For:
Removing water from your home during temporary renovation projects
Removing water without digging outside your home
Draining a significant amount of water quickly
Unsure whether internal drainage systems are right for your needs? Let us help you make an informed decision!